Dr Barry White Award for Examination Excellence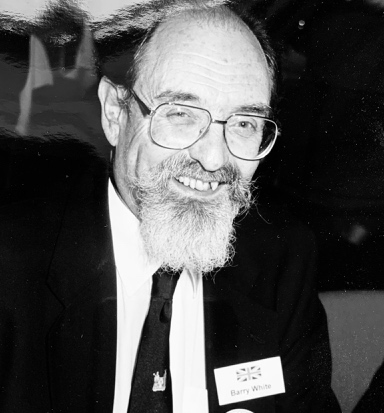 Date: 29th April 2021
Category:
In honour of Dr Barry White, The BDMA is extremely proud to introduce the Dr Barry White Award for Examination Excellence. This award is given in Dr White's name to reflect the candidate who has achieved the highest examination scores across all of the BDMA modules in a given annual period.
Dr Barry White was a BDMA Senior Technician and Honorary Fellow. Quite literally a rocket scientist, he specialised in chemistry where he held numerous qualifications, degrees, and masters from various Universities.
His career was both remarkable and varied including working on the UK's Blue Streak rocket system. During his later working life, while also taking on the role of Mayor of Lichfield, Barry joined BELFOR UK as an inhouse chemist and trainer where many of us had the pleasure of meeting and working alongside him. His love for all things science was infectious to all who worked with him.
Dr Barry White was a treasured member of the BDMA family for almost two decades. Despite all of his qualifications and accolades, he always said that the BDMA's examinations were some of the most difficult he had sat. We speak on behalf of all our team when we say that it was an honour to work with him. The last time we met with Barry was at the 2019 BDMA conference at Hinckley before he sadly passed away in January 2020.
Following his passing, BDMA Chairman John Thompson, then BDMA lead for education and examinations, proposed an idea to the Directors to create an annual award in Dr Barry Whites name to recognise excellence in examination performance.
We are delighted to share that the inaugural winner of the Dr Barry White Award for Examination Excellence is Richard Milner of Rainbow International York for his outstanding performance in the Restoration Technician exam.
To hear more from our winner Richard Milner and what this award means to him, click here to read our interview with him.
We would also like to say a special congratulations to our runners up Thor Gray-Moloney, Martin White, Rachael Price and Gary Evans.