BDMA Commercial Technician
BDMA COMMERCIAL TECHNICIAN (BDMA ComTech) is the entry level accreditation for commercial damage management practitioners.
If you are an accredited member* of the BDMA, then please note that part 1 of the Commercial Technician accreditation will be free of charge. 
*The FOC pricing applies to Technicians, Senior Technicians and Claims Practitioners. It does not apply to Insurance Technicians.
BDMA COMMERCIAL TECHNICIAN – ENTRY CRITERIA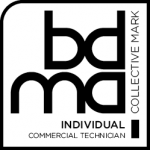 Practitioner with minimum 6 months experience and having the ability to work as part of a team carrying out all aspects of decontamination work on commercial losses.
Experience and Qualifications:
Minimum 6 months practical experience of decontamination work on commercial losses.
Holder of BDMA Certificate in Site Health & Safety.
Entry Method: Satisfactory completion of relevant BDMA examination (Syllabus available here)
COMPETENCE IN BDMA STANDARDS
Developing knowledge and understanding of the BDMA Standards provided by the BDMA to all individual members.
FEES: £168.00 + VAT per annum
---
A badge is also available which can be worn on uniforms or work clothing to identify accredited technicians. 
---
Apply for Associate Membership (if you are aiming for Commercial Technician accreditation).
ACCREDITED BDMA MEMBERS
For currently accredited BDMA Commercial Technicians please see our list of Accredited Individual Members.