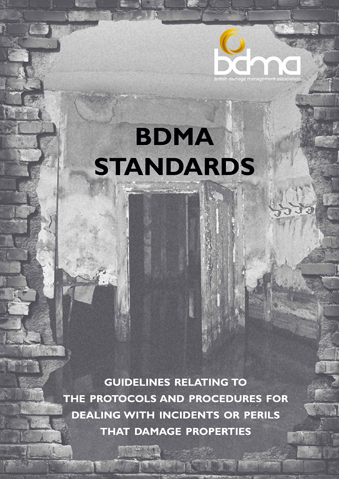 BDMA Standards
This document will be provided electronically only
The main BDMA Standards document is designed to provide guidance and recommended best practice for those who work in damage management, and act as an information resource for those in related wider industry sectors.
The BDMA Standards provide a series of guidelines which act as a recommended best practice framework to be applied by those who work in damage management at their discretion within the context of an incident.
Additionally, the BDMA Standards act as an information resource for those in related wider industry sectors.
In order to deliver the best resolution and most cost effective outcome when restoring damaged property, an appropriate and professional response is critical. An unprofessional approach and use of inappropriate techniques can lead to further ongoing damage and risks to health and safety, with associated additional costs, extended claim life cycle and unnecessary distress for the client.
The protocols and procedures outlined in the Standards provide a framework for delivery of best practice from notification of an incident through to completion of agreed restoration works, which allows for the incorporation of the most appropriate techniques to deliver a professional and satisfactory outcome for all parties involved.
The nature of damage incidents, however, requires each scenario to be assessed on its own merits. It should be noted, therefore, that while the Standards set out protocols that should be followed at all times, in order to deliver the most appropriate and cost effective outcome the solutions will vary according to the specific circumstances of each incident.
The BDMA Standards are provided free of charge to all individual BDMA Associates and Accredited Members and may be purchased by professional individuals and organisations across the wider industry. This document will be provided electronically only.
Members of the public, specifically looking for information on water damaged buildings, should consider alternatives such as our Flood Recovery Guidelines, the BDMA Flood Support Leaflets which can be downloaded.
PAS 64:2013, the Publicy Available Specification on Mitigation and recovery of water damaged buildings, which can be obtained from the British Standards Institution. To order a copy please select PAS 64 from the main Resources menu.
The BDMA Standards will be updated at regular intervals and we are happy to receive comments which will be taken into consideration during the document revisions.