Interview with Dr Barry White Award Winner Richard Milner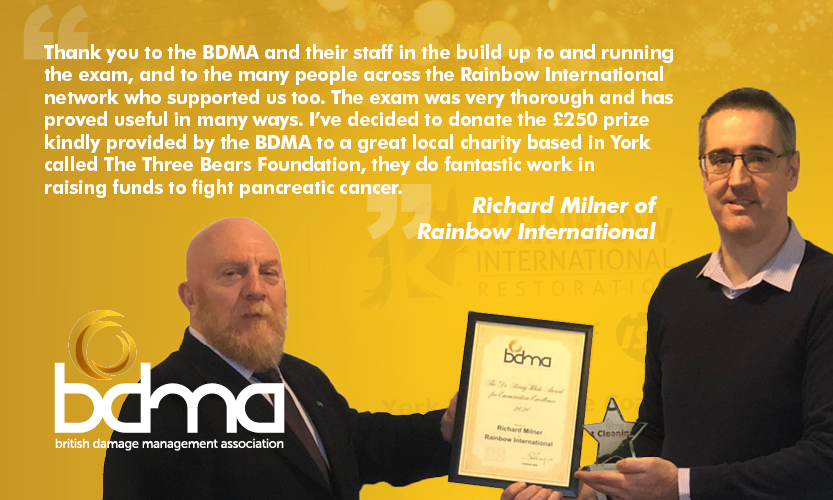 Date: 29th April 2021
Category:
We recently sat down with Dr Barry White Award winner Richard Milner of Rainbow International York. In this interview, Richard not only shares what winning this award means to him but also discusses his experiences when sitting our examinations and his time as a BDMA member. Are you considering taking part in one of our training courses and examinations? Well, in this interview, Richard also provides his advice and recommendations to those who are interested in taking part.
Firstly, congratulations on winning the Dr Barry White Award for Examination Excellence!
Please can you tell us about what winning this award means to you?
I was incredibly grateful to receive the award. I didn't ever get the chance to meet or know Dr Barry White but having spoken to people at the BDMA, they clearly speak of him with great fondness and respect so it's great to get an award for excellence in his honour.
Why did you choose a charity to give your prize money to, and why does this charity mean so much to you?
Rainbow International branches across the country are close to their local communities, we pride ourselves on offering a national service at a local level. The Three Bears Foundation is a local charity based in York. It is run by Mark Burn who sadly lost his wife a few years ago to pancreatic cancer and setup the charity in her honour. Mark and his team work tirelessly and with great enthusiasm for the Three Bears Foundation. Like all charities, fundraising via events has been made harder by the pandemic so I was keen to support such a great cause at a difficult time.
How long have you been a BDMA member? What has your experience been as a member and why should your peers also join?
I have been a member of the BDMA since 2019. The BDMA and their staff provide a great service and excellent training content and guides that are genuinely valuable to our industry. Being a member gives you access to all those great people and content, as well as other members across the UK.
What motivated you to take part in The BDMA's training and examinations?
Here at Rainbow International, we are always keen to invest in training to ensure our staff are developing new skills and knowledge to ultimately deliver a better service to our customers. Doing the BDMA examination myself helped me to expand my own knowledge and to put that to good use to develop our business.
What was your overall experience when sitting the examinations? What do you feel you have learnt from the course?
The exam is very thorough and challenging, it is designed to comprehensively cover the key areas of work carried out by our technicians. It's certainly not an easy examination which makes passing it very rewarding. I have kept all my notes I used for revision and plan to refresh my memory on it regularly.
And finally, do you have any advice and recommendations to others who are considering taking part in one of our training courses and examinations?
Go for it, but make sure you are prepared! Make use of the excellent content provided by the BDMA, in particular the example tests. I was also helped by other people across Rainbow International. Make it fun – one of my team was doing the exam at the same time (he passed too!) so whenever we spoke on the phone, we used to test each other out. It keeps you on your toes, but also adds a bit of fun to it too. That really helped both of us.