Women in the claims and damage management industry – Q&A with Plastic Surgeon's National Account Manager, Lauren Robson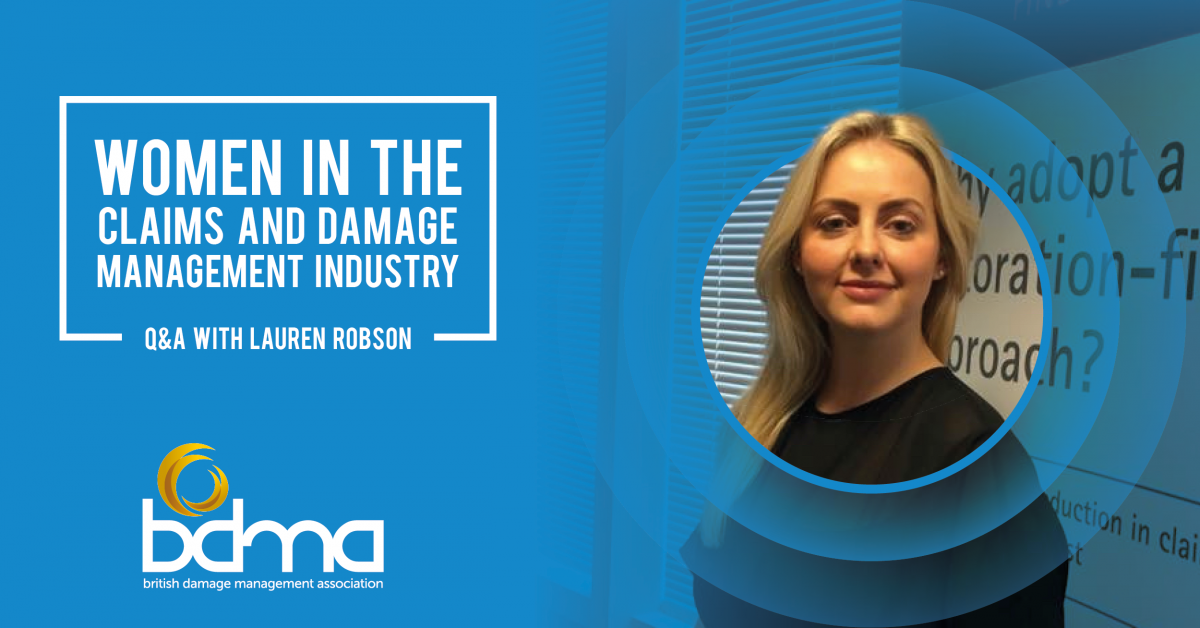 Date: 3rd November 2020
Category:
Despite positive advances in recent years, it has been well-documented that women still remain under-represented in the claims and damage management industry. In light of this, we recently caught up with Plastic Surgeon's National Account Manager, Lauren Robson, to discuss her experience of working within an industry that is traditionally dominated by men.
Can you tell us a bit about your background and how you entered the industry?
Like many others, insurance wasn't always my planned career route. I started my career by working in the travel sector, but after a few years, I began to see that it wouldn't be a sustainable career choice. This led to my first role in insurance at AXA Insurance. In my five years at AXA, I accrued so much knowledge and first-hand claims experience. I then met my partner and moved to Manchester, where I joined Crawford & Company Loss Adjusters. In my year and a half at the company, it really opened up my eyes to the loss adjusting side of insurance. Although I'd experienced claims management at AXA, this role gave me good insight into working on the frontline of insurance. Which brings me to today, in my current role as National Account Manager at Plastic Surgeon. I've worked at Plastic Surgeon for just over a year now and whilst I do feel like I've stepped out of my comfort zone, I do thoroughly enjoy it. I love being able to work on the account management side, building relationships with our clients.
What I also love about insurance is that no two days are the same – it really is an industry that requires lifelong learning.
Were there many opportunities when getting into the claims industry?
When I lived in Lancaster, there weren't many opportunities to get into the insurance claims industry, other than AXA Insurance. Although, I would say that as AXA is a main hub for home claims, there are so many training opportunities and career progressions available through them. Since moving to Manchester, location has definitely helped to move my career forward.
Do you feel that the industry is opening up more to women?
I do feel that the industry is opening up more to women and perceived stigmas are starting to disappear. In my eight years in insurance, I can say with an open heart that I've had a really positive experience. I do think I've been lucky though, as most of my managers have been females and have probably paved the way for great change. You can feel that change is on its way, which is shown through the CII's (Chartered Insurance Institute's) event series: Insuring Women's Futures.
How can the industry be more inclusive for women?
The industry has changed so much over the past few years, and it is great to see flexibility and job shares available. Whilst I've never felt like being a female was a barrier to my career, I can remember a time when I worried whether my age would be a concern at interviews. I was at the stage in my life, which was historically seen as the time to settle down and have children. This was my own personal perception and bias towards myself, as no interviewer or subsequent manager ever insinuated this in an interview. On the other side of the scale, I guess that we must consider that if I was to put myself in the shoes of a male, then they would have never had to enter an interview with those thoughts at the forefront of their minds. Fast forwarding to today, my current manager is male and supportive of all things family.
Now that perceived stigmas are beginning to disappear, I do wonder whether past experiences and stories are the barriers that remain. I think it's hard to say whether more reassurance from hiring managers would help this problem, as surely the absence of those conversations is the only reassurance that is needed.
Are there any challenges you have faced, and if so, how have you overcome them?
I personally don't feel that I've encountered any challenges within the industry. Although, I'm sure that the reason why I haven't personally experienced this is because of the women before me who broke barriers. In my time working in the industry, I've experienced so many women championing women. My previous female managers empowered me and led me to further opportunities.
What piece of advice would you give to women out there, who are interested in getting into the claims industry?
Go for it! There are so many opportunities out there and it's all about taking those opportunities as and when they are presented to us. Insurance touches almost every aspect of our lives, so there are endless new routes into the industry – whether it's claim handling, working on the frontline or working on the technical side. My second piece of advice is if you ever need advice or support, then there are so many women out there that are happy to help.
Connect with Lauren on LinkedIn.
You can read the other instalments in this BDMA Q&A series via this link.
The BDMA have also released a new Equality and Diversity course to help you and your employees to gain a better understanding about the meaning and importance of equality and diversity. This course is free to BDMA members and is £20 + VAT for non-members. Enrol here.