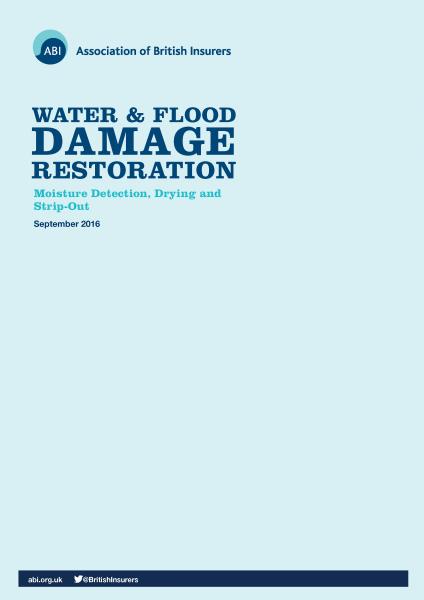 Water & flood damage restoration – ABI September 2016
WATER & FLOOD DAMAGE RESTORATION – Moisture Detection, Drying and Strip-Out was launched at the ABI Property Conference on 29 September 2016.
The document focuses on high-level damage management and restoration industry activities which may be involved during reinstatement of properties that have suffered water of flood damage, and sets out some key principles which can help to ensure appropriate solutions are provided. BDMA Strategic Development Director, Jonathan Davison, assisted in producing technical content for the document along with Chris Netherton of the National Flood School.
The publication, which references both BS 12999 and the BDMA Standards 2011, will be of great value to both the wider insurance industry and damage management sector professionals. It highlights the importance of a number of factors that must be considered, following any water related incident, before decisions on appropriate actions and solutions can be made. It illustrates the effect of the incident specifics and the nature of the building itself, including construction methods and materials used, on decision making during the recovery and restoration phase.
It makes clear the key issues that must be taken into account in determining whether strip-out of any kind can be justified and highlights the importance of early stabilisation in avoiding unnecessary internal demolition and reducing secondary damage. The document also considers available drying methodologies and equipment, together with the essential elements of moisture measurement and the methodologies that can be used.
Practitioners will find the document particularly valuable in reinforcing their knowledge and supporting the work they do, demonstrating the value professional damage management offers during the claim cycle. The substantial skill set and knowledge base practitioners require is acknowledged and the ability to provide a tailored response contributes to the best possible customer experience, combined with reduced claim life cycle and costs.
For insurers and loss adjusters the ABI document gives valuable insight into the approach that should be adopted, in conjunction with their supply chain, in order to identify and utilise the latest techniques and equipment to give the best and most cost effective outcome, which includes reducing the level of hard strip-out.
---
Download a copy of the ABI's 'Water & Flood Damage Restoration' document. The document will also be provided directly to BDMA Members.